On the cover...
Country estate 8.9 acres -
Sherri Norman-McRoberts
Asheville Realty & Assoc.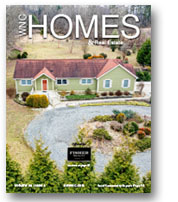 Current Issue of your Real Estate Weekly™
Download pages from the Asheville Real Estate Weekly™... information about land for sale and homes for sale in Asheville, North Carolina

Use our New and Improved Map Search.... We would appreciate it.

Volume 25 No. 30 -- July 24, 2014
Clicking on one of the links below will download a page from the magazine in PDF format. Just click on the name and/or page number and the PDF file will begin downloading.

You probably already have a PDF viewer because it came with your computer. If you have problems viewing the files, we have provided a link for a Free version of Adobe Acrobat Reader

`
Buncombe County

America's Home Place... 19, 40
Photogallery of our homes

Appalachian Realty 20, 21
View our listings

On the cover ...
Country estate 8.9 acres –
Sherri Norman-McRoberts
Asheville Realty & Assoc.
Learn more here
And Here

Asheville Realty & Assoc 30,
31, 32, 33
View our listings

Asheville Savings Bank
We have a plan

Beverly-Hanks & Assoc.
Steve Duncan
View my listings

Beverly-Hanks & Assoc.
Cathy Moore
View my listings

Beverly-Hanks & Assoc.
Vivien Snyder
View my listings
Beverly-Hanks & Assoc.
View our listings

Candy Whitt & Associates
See our current listings

Carolina Mountain Sales 24, 25
See our current listings

C21 Mountain Lifestyles
View our listings

Coldwell Banker King McKinney
Like us on Facebook

Gateway Properties WNC Teri Sferlazza
View our listings

Green Mountain Realty
We're The Luxury Brokers

Hi-Alta Real Estate
View our current listings

Keller Williams Professionals 14, 15, 16, 17, 18, 19
View our listings
Mosaic Community Lifestyle Realty
View our listings

Mountain Vista Properties
View our current listings

1 Source Realty
View our listings

Preferred Properties
View our listings

Prudential Lifestyle Homes of Distinction
Explore our communities online

Prudential Lifestyle Realty
View our listings

Schumacher Homes
Where do you want to build?

Town and Mountain Realty
View our listings