On the cover...
Frank Lloyd Wright style
equestrian homestead
Steve Dozier & Greg Lemke,
Beverly-Hanks & Assoc.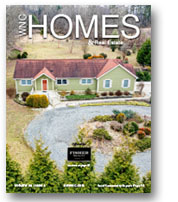 ...for WNC Homes in your InBox
Like us on facebook
WNC Homes & Real Estate
Advertise With Us
WNC Homes & Real Estate is one of a very few full color weekly, real estate based publications. We have more listings and help sell more houses than any other publication in this area. Our advertisers also include banks, mortgage companies, builders and developers. We are a perfect fit for anyone with a home-related business such as contractors, landscapers, or furniture stores.
Call us today at (828) 279-5962 to see how we can help you, or fill out our advertising form.